Les Mitrailleurs
This place is called the "mitraille" market and is situated in N'djili, Kinshasa, DRC. It's a place where you can either repair you car or sell it to mechanics who cut them into pieces. Than they sell them separately to customers or to other mechanics. They manage to build cars with pieces coming from different brands. I asked them to pose and to show one of their pieces. This serie tries to pay tribute to the ingenuity and courage of these men.
Les Mitrailleurs
O

n ne fait pas du nouveau avec de l'ancien. A cela près qu'à l'état fragmenté, notre passé nous offre d'innombrables perspectives futures, bien qu'inattendues.
Anciens extracteurs de diamant articulant un portugais trente-cinq carats, diplômés en tout genre ou encore jeunes 'phaseurs' bons pour la casse, tout ce beau monde récupère un passé qu'ils vous déversent avec minutie sur les sols du Marché Mitraille logé au sein du Quartier 1 à N'djili, l'une des 24 communes de Kinshasa.
Derrière un apparent bric-à-brac se cache un recueil d'ingéniosité dont ils maîtrisent parfaitement le mode d'emploi. "Ici, c'est un centre de recherche. Tu mets le moteur Mercedes dans une Audi et ça tourne" dit fièrement un des revendeurs. De l'ordre dans le désordre, de l'inventivité face à l'adversité et des voitures hybrides qui retrouvent une seconde vie, le temps de quelques milliers de kilomètres de plus.
Le parc automobile de Kinshasa recèle de nombreux "engins roulants non-identifiés". Ces ERNI n'ont rien d'une anomalie. Plus que de simples moyens de transport, ils sont le produit de la résilience que l'on observe sur le marché et les visages de ceux qui le peuplent. Source d'inspiration de ces clichés, la longévité de ces engins témoigne d'un réel savoir-faire. Arpentant les ruelles et quartiers de cette commune, la notion de 'service' revêt un autre sens. L'artisanat, la coopération et les tours de mains sont rois, 3000 tr/min garantis. Un détour par le Marché Mitraille sort tout conducteur des sentiers battus, une expérience 'offroad' qui remettra en selle de nombreux chauffards kinois.
Rien n'est jamais bon pour la casse. Tout est récupérable. Au-delà d'un acte de militantisme « vert » assumé ou même conscientisé, chaque pièce a une valeur marchande. Ainsi, pistons, disques de roue, soupapes, pompes à eau, disques d'embrayage, cylindres de frein(s), démarreurs, pompes hydrauliques, alternateurs côtoient poulies, radiateurs, amortisseurs, arbres à cames et on en passe.
"Je me connais moi-même, je ne devrais pas être ici". Malgré tout, l'acte est répété quotidiennement, dimanche inclus. Chaque pièce est soigneusement disposée à même le sol, un parterre millimétré pour lequel ils récolteront une poignée de dollars. Une peine à la hauteur des gains? Darty, l'un des 'mitrailleurs', nous rappelle que "quand il n'y pas de boulot, il faut créer». La création, maître mot, est le trait d'union de nos démarches respectives, parade redoutable contre l'ennui et la fatalité pour les uns et germe de rencontres et d'échanges pour les autres.
Considéré comme un abattoir où les véhicules les plus éreintés aboutissent en fin de vie, le Marché Mitraille n'est pas pour autant un lieu sans vie. La bonne humeur et les railleries y sont bon marché. Le jeu de six et le jeu de dames départagent la concurrence. Les tôliers, revendeurs, peintres et autres mécaniciens font front commun sans compter l'une ou l'autre incartade. On noie son esprit dans un verre d'Agene, liqueur locale, ou une bouteille de Tangawisi, boisson à base de gingembre.

Le marché et son atmosphère paraissent surréels à bien des égards. Sa structure est aussi disparate que ses interactions sont enjouées. L'improbable y devient apparent. Il y règne un esprit taquin sur fond de détachement, comme si le second degré avait pris le pas sur le réel. "On crée un monde parallèle pour affronter, mieux faire passer cette réalité difficile".

Ces N'djilois rêvent d'ailleurs mais dans l'attente d'un départ perpétuellement différé, c'est sur les carcasses venues du bout du monde qu'ils s'échinent. "Les N'djilois, la revente et la mécanique c'est une longue histoire". Malgré les tentatives d'éviction, le manque de soutien public et leur position retirée, en seconde ligne sur le Boulevard Lumumba, 'les mitrailleurs' font de la résistance. Ils déploient leurs moyens de subsistance sur la terre arénacée comme d'autres dressent des plans de batailles.

Les japonaises, américaines, françaises ou allemandes n'ont aucun secret pour eux. Et pourtant leur provenance les fascine et n'en finit pas de nourrir leur envie d'exil. À tel point que la commune de N'djili a été rebaptisée Japon. "S'il y a le miracle, je vais venir en Europe". Quelle ironie du cycle! Tandis que nombreux véhicules prennent un aller simple pour le Congo une fois jugés trop vieux selon nos critères de consommation, les plus vieux des congolais continuent de fantasmer sur un contient qu'ils conçoivent comme l'eldorado, une société dont la machinerie est à l'origine de nombre de leurs maux.
Cette série est une occasion de les faire voyager, d'ouvrir une fenêtre sur leur quotidien, leur réalité et leurs rêves.

Car la voiture est plus qu'un objet, elle est l'incarnation d'un mythe partagé, celui du transport universel. Des Chryslers massives glissant à travers les plaines américaines jusqu'aux antiques Toyota IST bravant les routes défoncées de Kinshasa, la voiture crée l'illusion d'une communauté d'usagers, réunis dans un même mouvement d'émancipation libertaire. Et tant pis si ce mythe doit s'encastrer sur les frontières, tant pis si il doit emboutir les bornes du réel. Les N'djilois montent à bord des carcasses qu'ils raniment et, outillés de leur espoir, laissent leur condition derrière eux pour mettre le cap sur le jour d'après.
Y

ou can't "pour new wine into old bottles". Except that in its fragmented state, our past gives us unlimited future prospects, although unexpected at times.
 
Old diamond extractors articulating a 35-carat portuguese, graduates of all kinds or young fit-for-the-trash 'wackos', these scrap merchants salvage a past they carefully discharge on the soil of the Scrap Market located in N'djili District 1, one of Kinshasa's 24 boroughs.
Behind this apparent jumble lies an ingenuity casebook which user's manual they master. "Here, it is a research centre. You put a Mercedes engine into an Audi and it'll run" one of the resellers proudly says. Order within disorder, inventiveness to face adversity and rejuvenated hybrid cars that will run thousand kilometres more.
The city's arteries hold a lot of those 'Unidentified Wheeled Objects'. There's nothing unusual about these UWOs. More than mere transportation means, they are the product of the resilience observed on the market and the faces that make it up. An inspiration for these pictures, the longevity of these UWOs testifies to a true know-how. While walking the streets and neighborhoods of this borough, the concept of 'service' takes on a whole new meaning. Craftsmanship, cooperation and knacks are the rules, 3000 rev./min guaranteed. Making a detour by the Scrap Market while crossing N'Djili will get you off the beaten track, an 'off-road' experience that will straighten up many Kinshasan road hogs.
Nothing is ever deemed to be thrown out. Everything is recyclable. Beyond any act of 'green' militancy - or any kind of conscious stance whatsoever -, each item has a market value. And so, pistons, wheel discs, valves, water pumps, clutch discs, brake cylinders, starters, drain pumps, alternators go alongside pulleys, radiators, shock absorbers, camshafts and so on.
"I know myself, I should not be here." Nevertheless, the act is repeated on a daily basis including sunday. Each piece is carefully placed on the ground, a pinpoint spare parts bed for which they'll reap a handful of dollars. Is it worth the effort? Darty reminds us that "when there's no job, you need to get creative." Creation, key word, is the link between our respective approaches, a formidable way to counter boredom and fatality for some and a source of encounters and exchange for others.
Though considered as a slaughterhouse where the most timeworn vehicles come to find a place to die off, the Scrap market is far from being a lifeless place. Cheerfulness and banter come for free here. Six packs and checkers decide between competitors. Sheet metal workers, resellers, painters and other mechanics stand together, with the occasional misdemeanour. You drown your mind into a glass of Agene, a local alcoholic drink, or a bottle of Tangawisi, a ginger beverage.
 
The market and its atmosphere seem surreal in many ways. Its structure is as disparate as its interactions are lively. Unlikelihood becomes obvious. There constantly is some teasing against a backdrop of detachment, as if off-beat humour had overtaken reality. "We create a parallel world to better face, to sweeten this difficult reality".
These N'djilians dream about the outside world, but meanwhile it is on elsewhere-bound wrecks they're working. "There's a history between N'djilians, resale and mechanics". And they're resisting, despite the eviction attempts, lack of public support and their second-row position on Lumumba Blvd. Electrical resistance, joint resistance, a resistance to life's tricky vicissitudes, resistance as a means of survival.
Japanese, Americans, French or German cars hold no secret for these scrapmen, but their origin continues to fascinate them and feed their desire for exile. So much so that N'djili's borough was renamed 'Japan'. "If there's a miracle, I'll come to Europe". How ironic is that cycle! Whereas many vehicles are given a one-way ticket to Congo once they're considered too old by our consumption criteria, even the oldest Congolese people continue to fantasise about a continent they perceive as the Eldorado, a society whose machinery is at the root of many of their sorrows.


This photographic serie is an opportunity to partially realise their dream, to make them travel and open a window on their everyday life and their reality. The car, symbol of the American dream, of mobility and exchanges between complete strangers in the back of a cab, transcends boundaries. It provides these scrapmen an opportunity to escape, leaving their walk of life behind, destination: tomorrow.
PHOTOS/PICTURES: MAXENCE DEDRY
TEXTE/TEXT: JEAN-SYLVAIN TSHILUMBA MUKENDI
TRADUCTION/TRANSLATION: PAOLO DAGONNIER
REMERCIEMENTS/ACKNOWLEDGEMENTS: THIBAULT DELEIXHE, VITSHOIS MWILAMBWE BONDO(!) & THE KIN ART STUDIO
© MAXENCE DEDRY & JEAN-SYLVAIN TSHILUMBA MUKENDI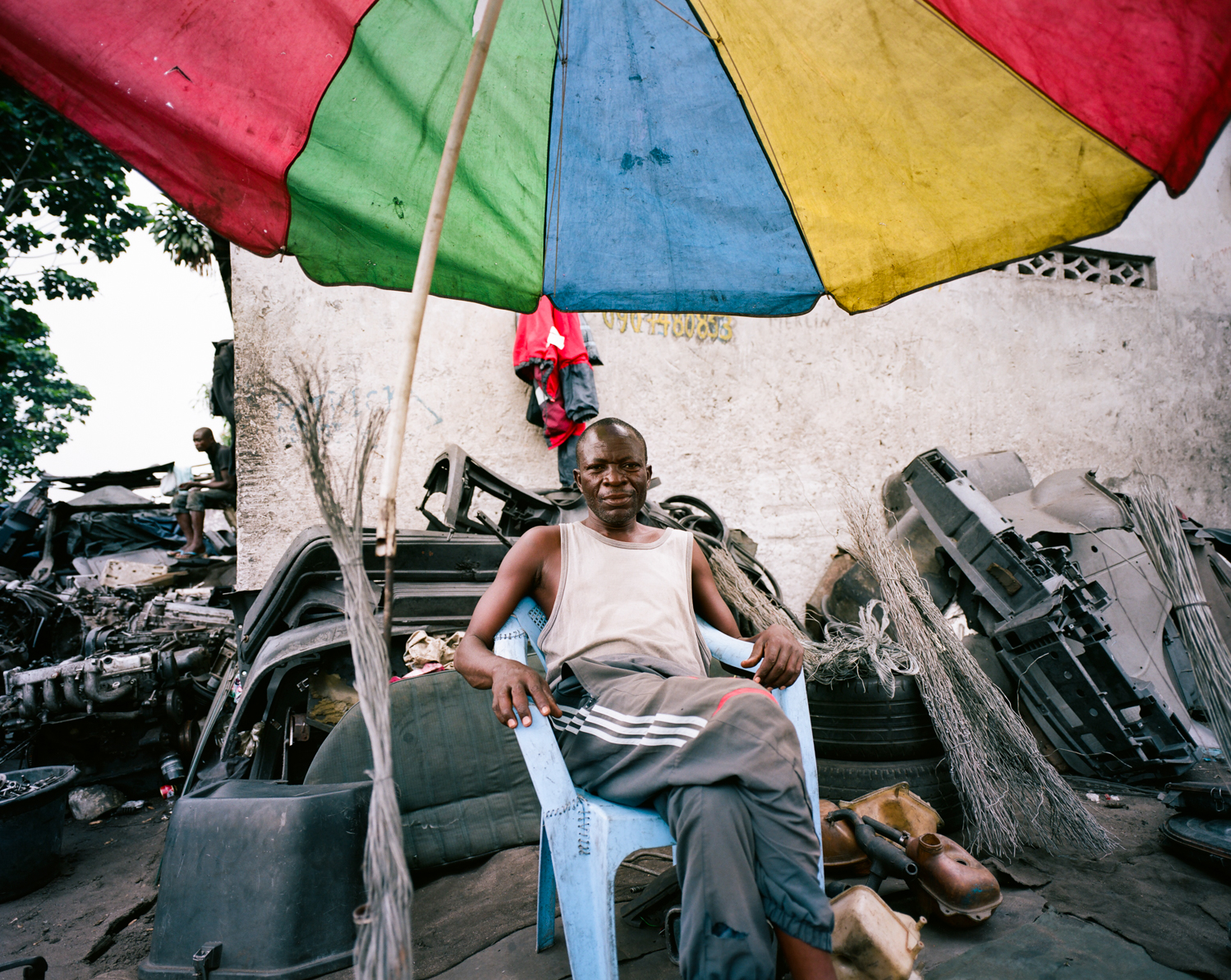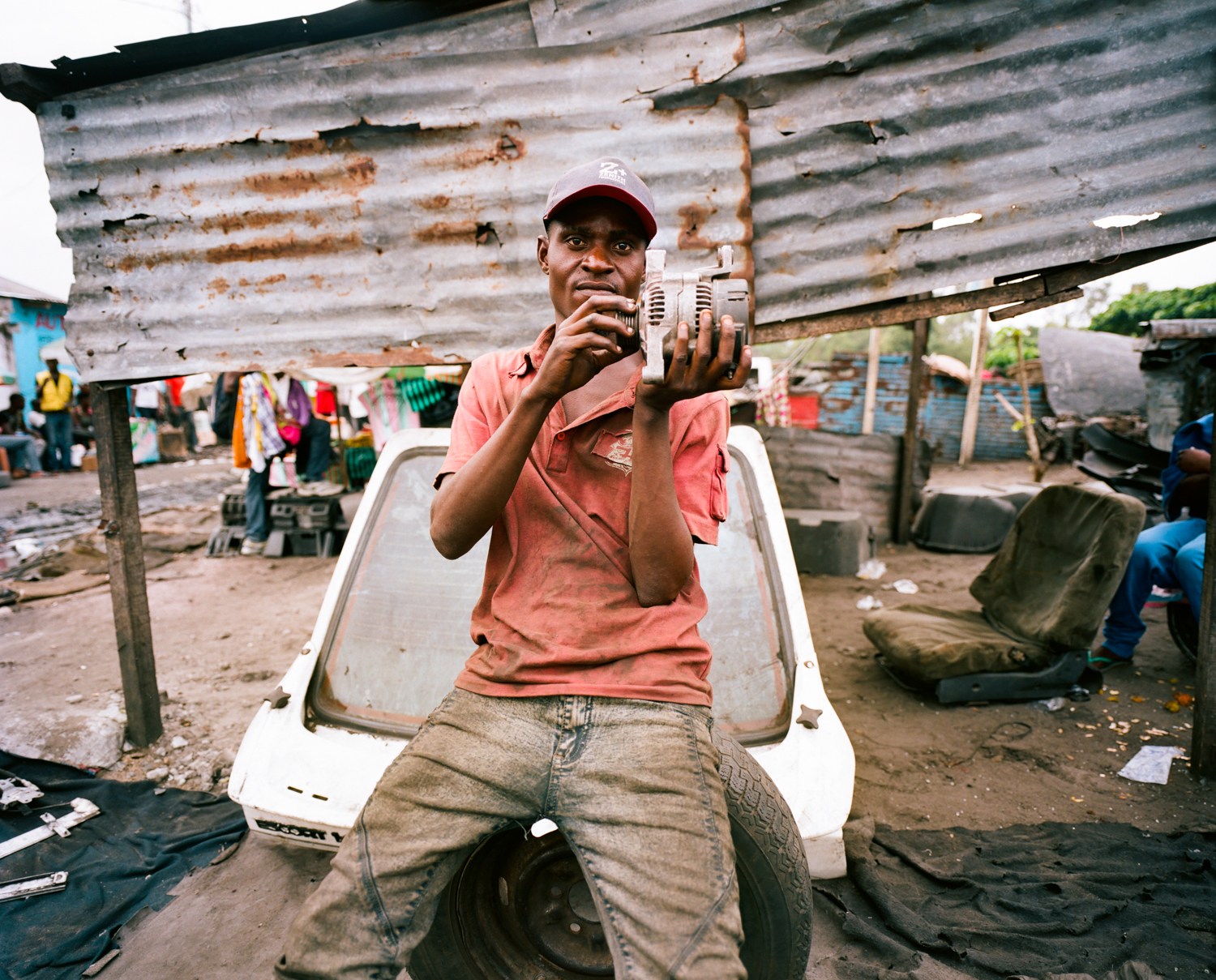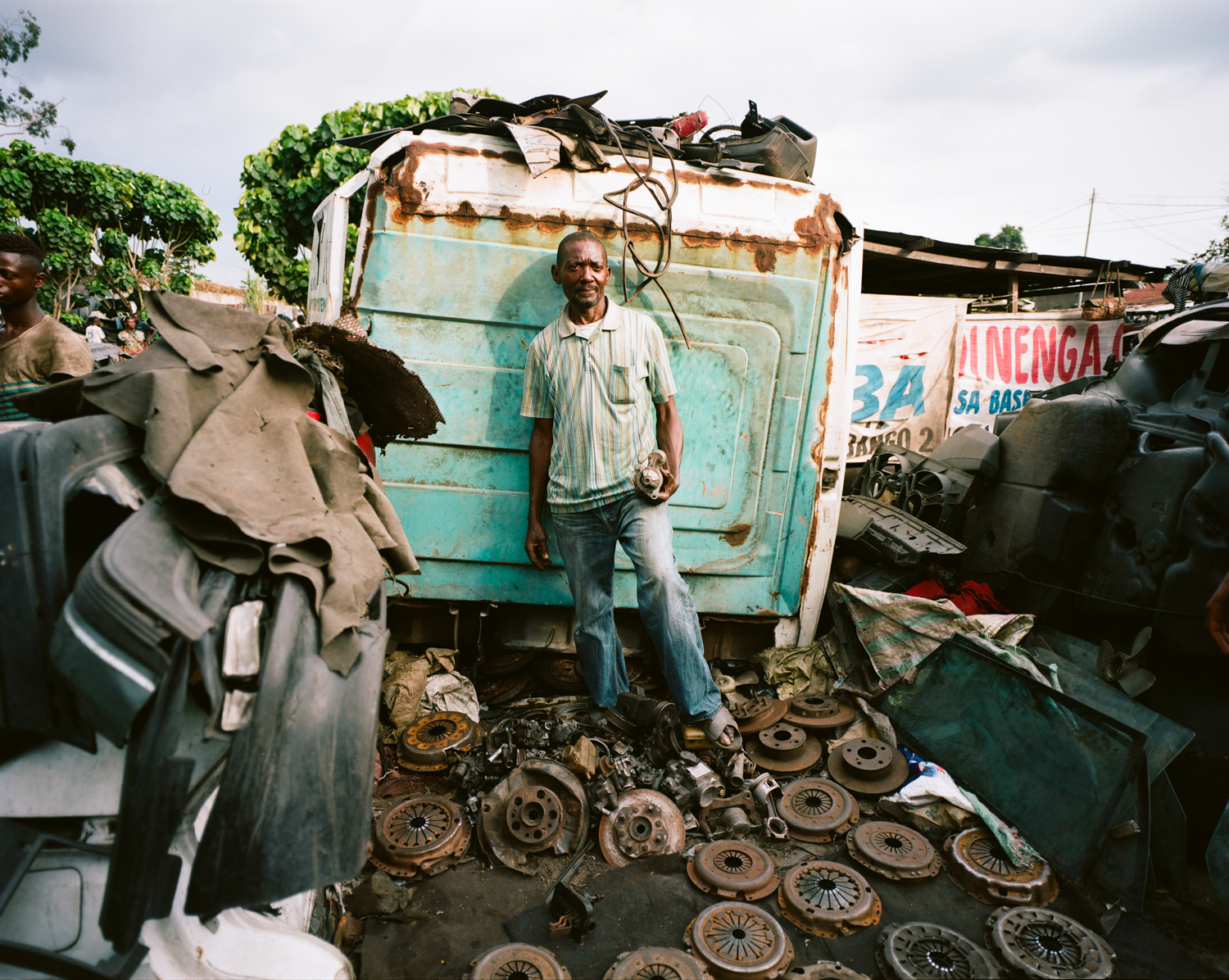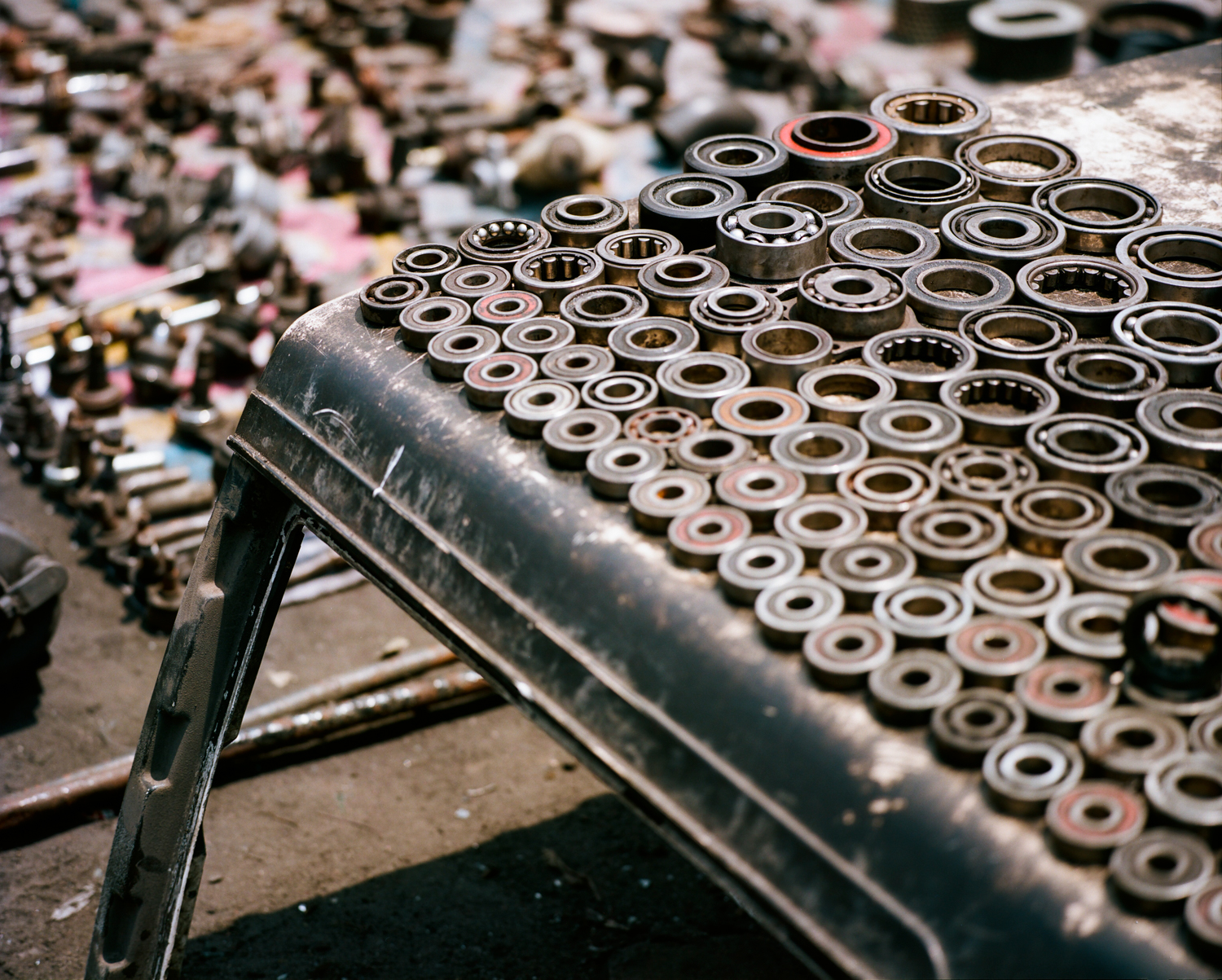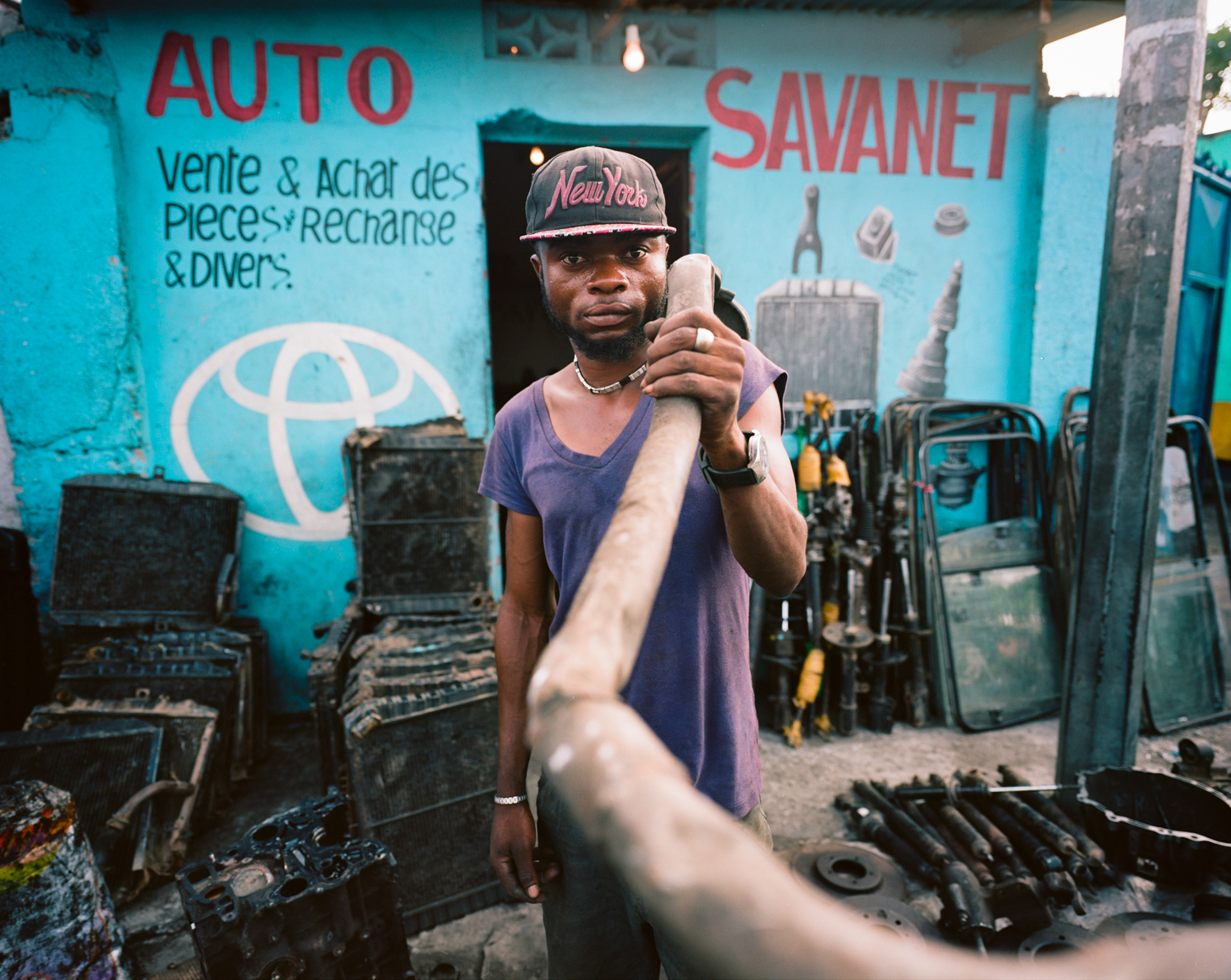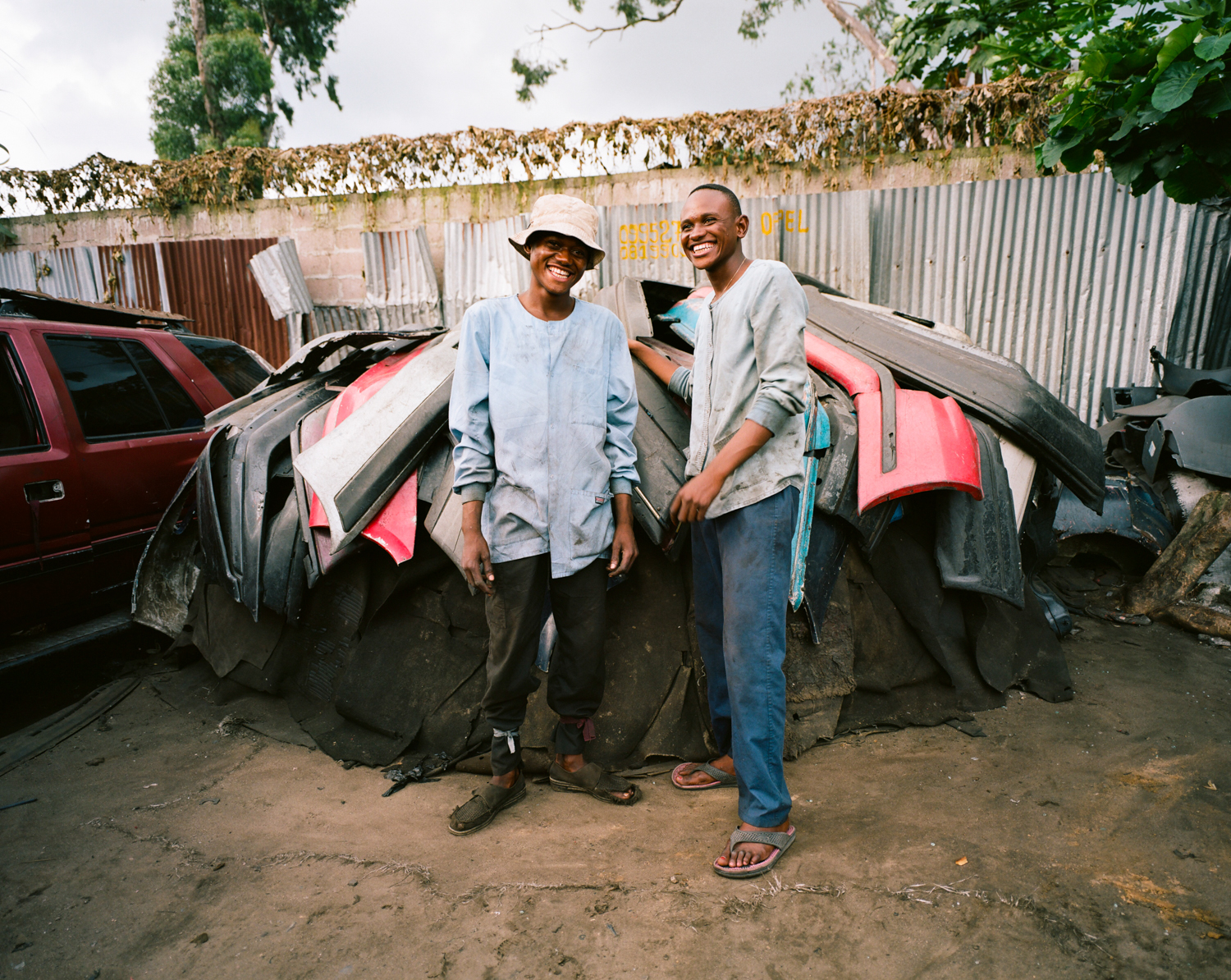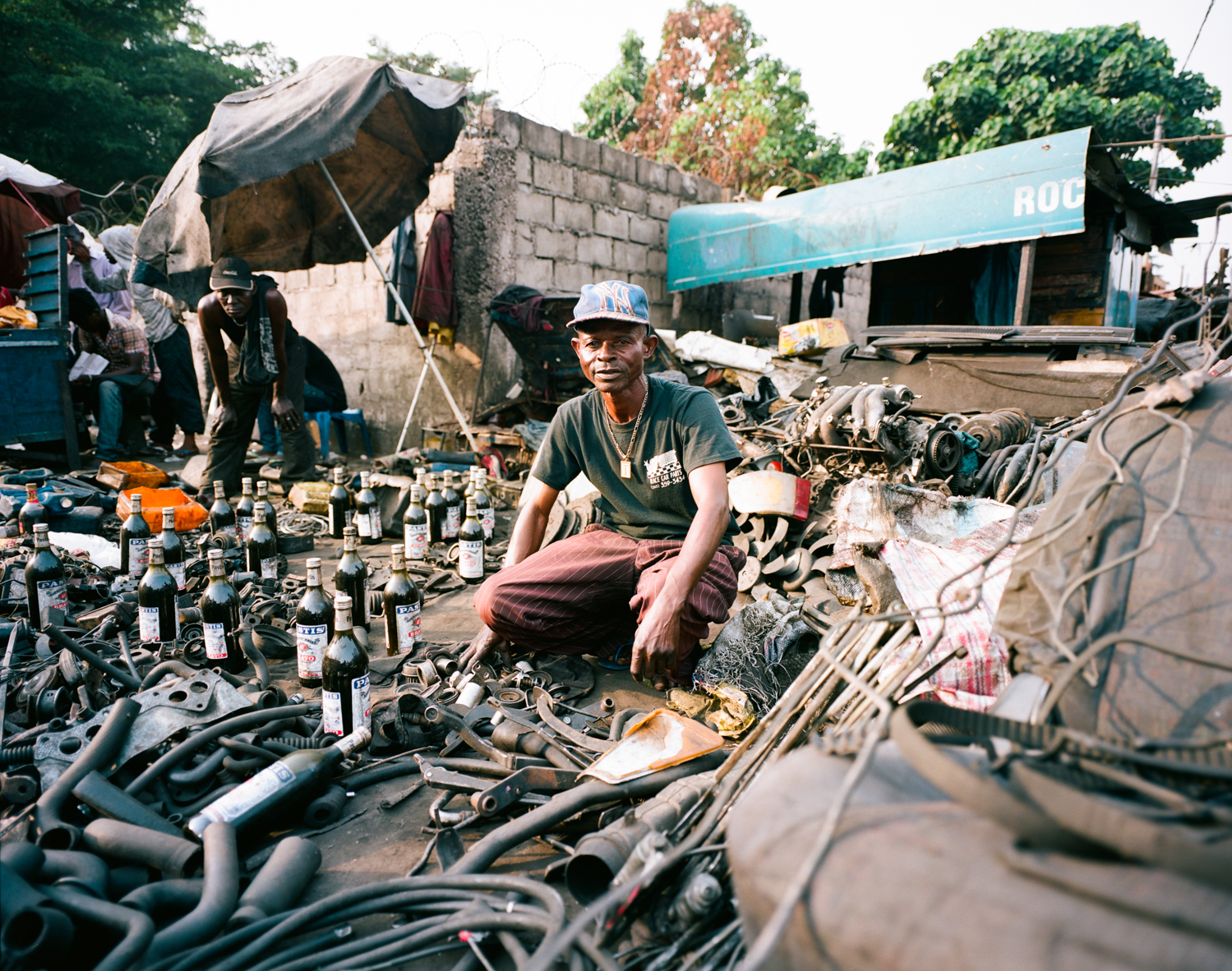 This was shot in analog (medium format) using a Mamiya 7 II and Kodak Portra 160. Processed by Color 41 and scanned by PhotoGalerie